As a small girl of Kuala Lumpur, Malaysia in the 90s, Sophia Kamal was captivated by her mother who does oil painting as a hobby. Seduced by the colours of Disney cartoons and Japanese anime, you could find her scribbling away in her colouring books. It was these early formative years sparked her passion and curiosity for paintings which in turn developed into a full time obsession as she explores the history of Arts and experimented with all sorts of mediums for her to express herself and expand her spirituality.
 
Ever since graduating from the University of East London in 2015 with a BA in Fine Arts, she has been exhibiting her work throughout Asia and Europe ever since. With such recent participation in the "New Year Group Exhibition 2018" by AIDA gallery in Osaka, Japan.

MILK & HONEY (2015) – Acrylic On Canvas – 61 x 77 cm
 
The Female, – a source of endless wonderment to me. Owing plenty of my inspirations to their physical dimensions and the ability to elegantly reconfigure light and shadow creating a deeply immersive experience of their complex personalities, meaning, power, responsibilities and self-worth.
In celebration the growing presence of independent women in the local society, "Milk & Honey" is best suited in capturing the abundant essence of the female strength. Through the radical close up of the facial features that allows only a glimpse of it's true full picture beauty keeping the attention focused on the eyes that acts as a window to the female soul.
Caption: Sophia Kamal's WUDU Exhibition @ Minut Init Art Social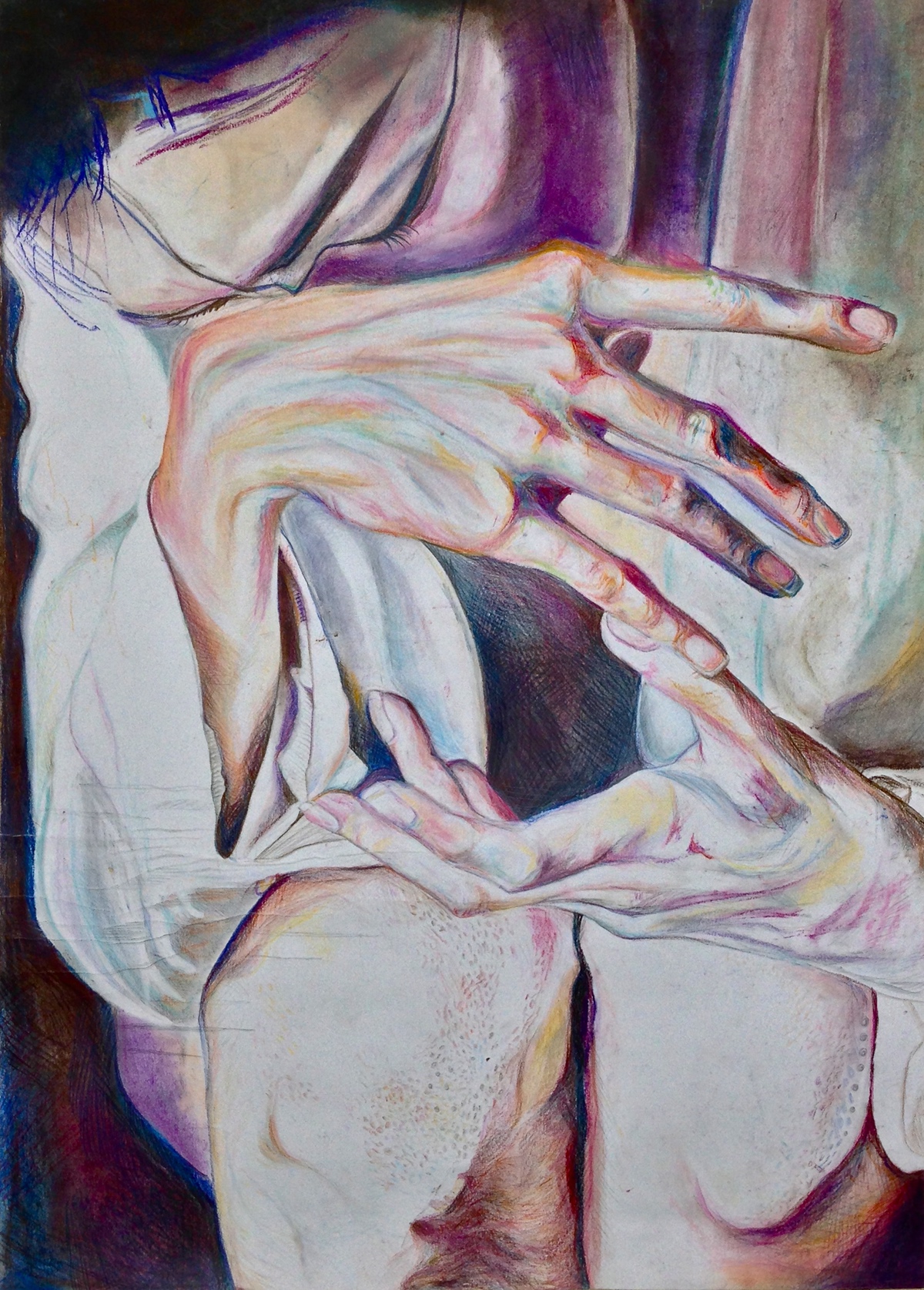 "In her debut solo exhibition entitled WUDU, she displayed the entire catalogue she had finished during university where they all culminated in a theme of self-acceptance as an insecure Muslim girl learning to embrace her flaws through a religious practice (the wudu, ablution). The artist is very interested in the cleansing and evidently healing ritual, therefore the hands and the head have become the dominant features of this series. One example is 'Milk and Honey' where a tube of neon light — representing water — shines on a woman's face, revealing her imperfections. The head, according to Sophia, also represents planets as she's fascinated by the idea of people as planets orbiting one another. The idea came to her as she worked in the night time, constantly thinking about the galaxies beyond."
Cindy Low | JUICE
 
Sophia explore the concepts of self-identity, religion, nationality, femininity and beauty through her sensual portraits. Her paintings are not merely reflections of the physical and material but also the intangible expressions and abstract colors of society and culture.
 
Could you explain to us more on the style of your Art? (The concept and ideas behind the paint)
My artwork focuses on the beauty and power of women, this idea came about because as a woman myself I've struggled with anxiety, the feeling of being insecure and having to face many expectation from my set of parents to teachers to social circles and then society. I believe that other women faced the same problem as well, and they have their own strategies to overcome. These made every woman unique, and has their own story to tell, I have yet done a self-portrait of myself I guess because I'm interested in the life of others(also because im insecure), I'm inspired by other women to document their lives which in some way reflects back to myself. Because we are all sisters, and we have the power to advise our fathers and our men and somehow make the world a better place.
 
How was the reception of your Art in the recent exhibition in Japan?
It is my first time in Japan, and I finally understand the term clean. The exhibition took place in a quaint shophouse and there are two floors showcasing two different moods. My artwork is displayed at the ground floor with other artworks with the same pastel colour and feel as mine. The rest of the artists were locals and they were very friendly although it was hard to talk to them because of language barrier but we were able to appreciate each others artworks.
 
How does your work relate to your heritage as a Malaysian?
After graduating my diploma at a local university, the experiences that I've experienced influenced my concepts to be more modest and spiritual, which I believe is a huge factor about being malaysian. There is a line that allows me to keep my art in control, to self reflect on how my artwork will be viewed because I believe this is a common attitude that I have growing up as a malaysian. But at the same time I used terms like wudu and wife material to bring that question into focus for my viewers to think about the history that led malaysian to be very arabic in terms of clothing and life itself. Especially because there are more rules circulating around women which triggers me to paint based on that concept.
 
How has the studies in Europe influence and informed your art? How was the audience to your artwork? (Most memorable moments?)
In Europe I developed a space for me to explore my questions towards beauty, fashion and feminism. I was able to look at many exhibitions that reconfigures my observation on contemporary art. I was also able to exhibit some of y artworks at a few galleries, one of it at Espacio gallery in Shoreditch and a few art talk/ workshops that i was invited to as a guest speaker. The audience in the UK mostly provide constructive criticism, a lot of discussion happened and we able to talk about our understanding. All in all I would say that the UK gave me the courage to voice out my opinions and allowed me to be more open towards many conservative ideas which I had in my country.

What are your thoughts on the Creative Industry in Malaysia and how is it different from Europe?
Malaysian art scene I would say that it is booming, not as many sponsorship or organisers and as big like the ones in Europe. But it's getting there, and myself being an artist I will try as much as I can to keep the scene alive, but my part will always exists in the studio, painting away, never to lose this passion.
 
Do you think Asian Artists and Artworks should have more exposure in Europe?
Definitely, in a way Asian art, to me are more soulful, and has more attention to detail, also it would open up more doors for discussion and collaborations.
 
What you think of Berlin? Do you wish to have some opportunities to showcase your work there? Any stories to tell of Berlin?
I love it there, the people are friendly and the food is just amazing. I remember going to a lot of those markets and food markets and its full of colours and flavours. I would definitely love to have an exhibition or even to stay for a residency, it would be nice to expand myself in different cities and explore different cultures, and see how that helps me to develop my artistic expression.
 
Could you name us a few artists that you admire and look up to?
I'm fond of many artists, from the past to the present. The ones off the top of my head would be Van Gogh, Frida Kahlo, David hockney, Rene Magritte, Gustav Klimt, Monet, Dali, Francis Bacon . Although the artists are not exactly the same, but I look up to them the most because of their life stories and how they push themselves to be an artists, despite that these painters produces artworks which i can sit and adore for hours with very deep meaning behind their artworks.