I took a two-month trip back to Japan. Tokyo to be specific. During last year Halloween, I was so bored since my family doesn't really celebrate it and my girlfriend wasn't with me as she was back in Malaysia. I decided that I would take a metro train to Shibuya to check out what was going on in the city on that night. It was amazing. I was super surprised to be on the streets that were completely different from its daily basis.

Usually, in Shibuya, there is plenty of tourists shopping around and taking selfies with their friends and families or white collar workers stressing out of the office or home, you know, everyone is in their own zone and there are not much of interactions between strangers. But during that Halloween night, the city was absolutely fucking crazy, – it's basically a huge party of your favorite fictional characters in the streets and everyone was throwing high fives around, dancing and singing with strangers – all in all just having fun and smiles everywhere.

Seeing everyone came together as one kinda helped me through the lonely night in Tokyo. Though I was not dressed up in the fancy costume I had fun walking around alone with my tiny point and shoot camera. There are tons of people squeezing around the street and I managed to take some photos of people that caught my attention.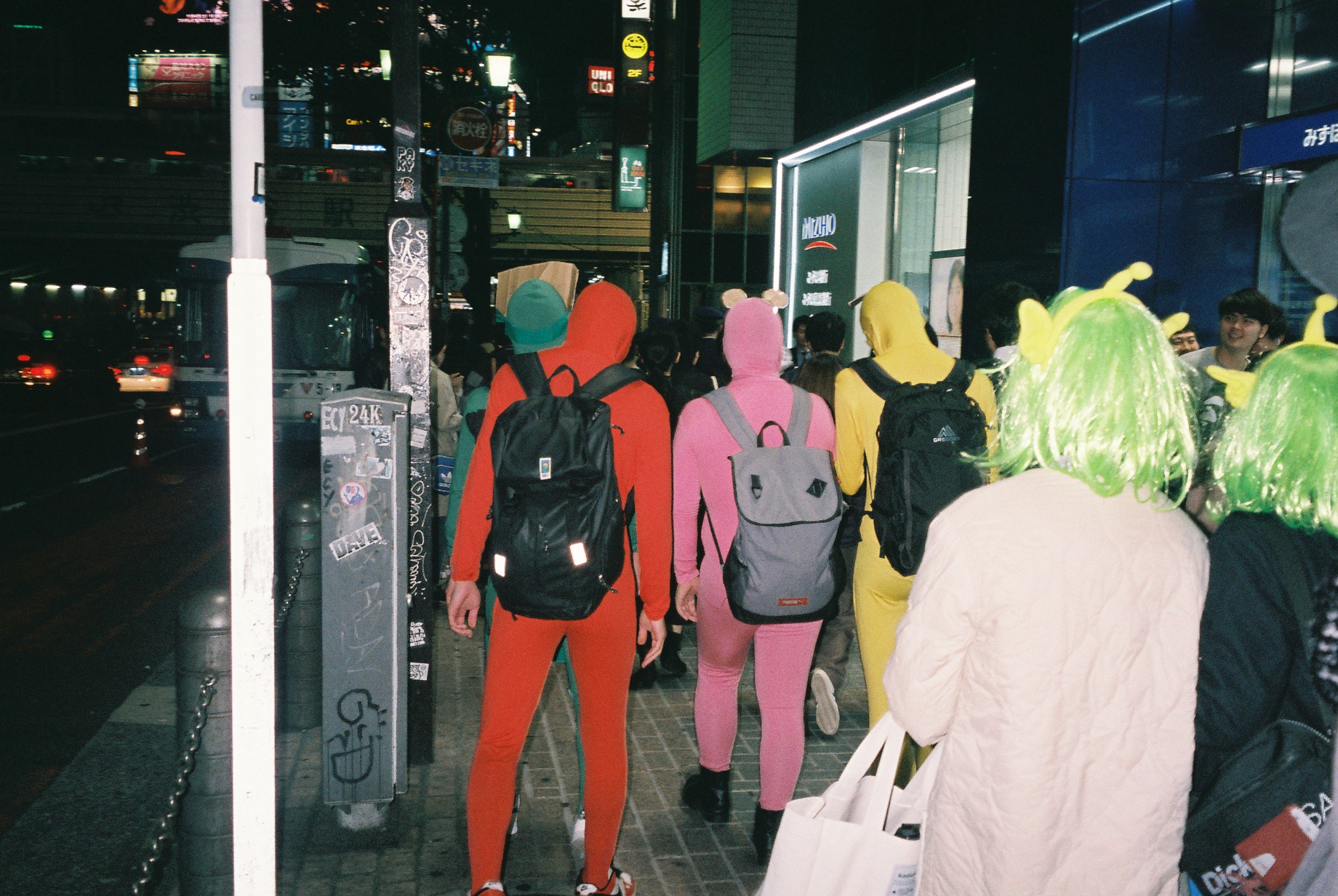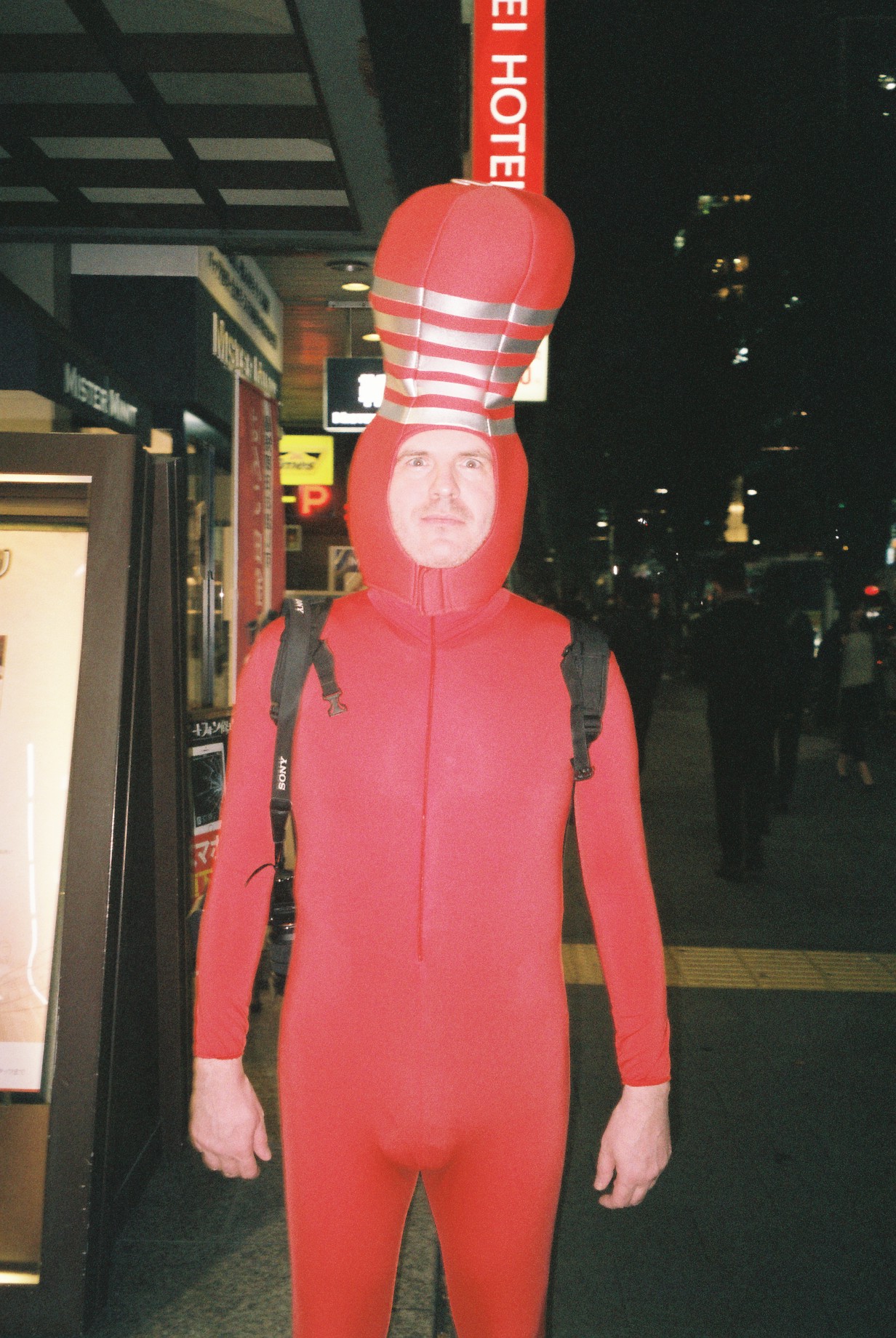 Caption: Halloween 2017 
---

Taku Iwama
Most of my photography is towards the organic side of life and just simply love which I was exposed to through the surf culture. Surfing is one of the biggest parts of my life. Through my lens, I'm  trying to show that life isn't just all about hustle and bustle of the big city life. Instead, there's the other side where we can take a step back and relax. Some has a purple kinda filter which is a natural way of filter by dipping the film into a bottle of lemonade.
How it all started was – one day – I went into a recycle store near my house in Japan and saw a point and shoot film camera selling for 100 Yen (1 USD), so I didn't think that much and just got it. After asking around few camera stores on how to load up the film and so on, I popped in some new batteries and a roll of film (surprisingly, the 100 yen camera worked) and started shooting around streets near my house. Since then, I have never really stopped.
So basically I'm just traveling around the east coast in Malaysia during monsoon season for surf trips and trying to capture things that are pleasing to my eyes along the way and keep everything simple.

Could you explain to us the seductive nature of a surfing and the lifestyle of riding the waves?  How did that inspire you to capture those moments in films?
Surfing is just so special in its own way. The waves condition is changing every day and it can get pretty shitty most of the time. Therefore, the feeling of driving six hours or more to get to a spot hoping that the condition is just great is always an exciting adventure. When you get to the spot and the waves are perfect, it's super fulfilling.
I'm always shooting with my film cameras and bringing it to the other part of my life which is surfing in this case is a no brainer. Sometimes it's super hard when the waves are fun as I just wanna grab my board and surf. But it's always nice to take photos of others riding waves and sharing it with them after the films are developed. It's just something that I really enjoy especially when they genuinely love the photos that I took of them. Also, I've been to many places that I don't think I would if it wasn't for surfing.



As a kid of two different cultural backgrounds, how has Japan and Malaysia influenced your Art?
Malaysia definitely has a more tropical and layback style compared to Japan. It just something that I'm really enjoying. Japan is great as well, but sometimes it gets a bit too busy and hectic. I find Malaysia to have a right balance of you know, both relaxation and tension. My work has definitely a direct influence from Malaysia, as you can see, it's all about the tropicals and when I look at it, it gives me a sense of relaxation that I don't really get from my Japan work. It's not to say that I like one more than the other one. Both has its own unique glory in my heart.

What do you wish travelers see more of when they do their little paradise getaway in South East Asia?
I will just talk about Malaysia instead of SEA. Forget about the twin tower and just go the east coast of Malaysia and bring some tent and hammock. Get up early in the morning, go to a local place, get some kopi-o and nasi lemak and talk to locals (just use your hands if they don't speak english). Oh yea, please don't forget keropok lekor (deep fried fish paste).



Name an artist or creative subject that inspires your Art?
It's constantly shifting but one artist that I always stick to and always relates to me is definitely Christopher Owens. All his work is super down to earth and is all from his heart. That's what all of us should be doing no matter what form of creative work we are doing.

What do you think of Berlin and it's creative culture? Do you wish to visit it?
To be completely honest, I don't really know about Berlin and I don't wanna try acting smart and talk about it. But yea, why not! It will be cool to have a chance to visit and meet new friends. Oh yea, when I think about Berlin, the song from Lou Reed always goes into my mind. "In Berlin, by the wall, you were five foot ten inches tall……."